We're meeting for an outdoor service on June 14th.
This will be a full service with prayer, a live sermon, the Lord's Supper, and singing.
To help communicate the plan for the service, I (Aaron Decker) have written up the below plan and
procedures. Please let me know if you have any questions or concerns.
Service Plan:
10:00 am service starts
We won't be serving food.
There will also not be childcare provided.
Call to Worship
Congregational Prayer
Sermon delivered live. A pre-recorded version of the same sermon will be available as it has been in prior weeks.
Lord's Supper. The offering basket will be available as it typically is.
Congregational singing of 2-3 hymns. After consulting with a healthcare professional I believe
this is safe to do. In addition, we will be outside and distanced apart.
Nevertheless, the singing will be done after the Lord's Supper so that those who believe it to be
below their acceptable safety threshold may still partake with us before singing commences.
Lyrics for the hymns will be sent out by the Saturday before the service. Congregants are encourage
to memorize, print, or have the lyrics available on their mobile device.
For the 14th the songs will be:

Song #1: Come Thou Fount
Song #2: Be Thou My Vision
Doxology
Plan for inclement weather:
Aaron Decker will check the weather forecast on Saturday and, if necessary, send an email to the
congregation letting everyone know that it will be indoors.
If it starts raining during the service we will move indoors.
The service plan for an indoor service will be the same as for the outdoor service.
Overflow plan:
Legal issues may arise with having more than 50% of building capacity at and outdoor event.
Based on attendance for past services I don't believe this will be an issue.
However, if I determine that it will be an issue, we will use the indoor sanctuary to hold up
to an additional 50% of buliding capacity. The service plan inside will be the same, with the exception that the sermon
will be the pre-recorded sermon projected on the wall.
If the service moves indoors and we are over room capacity, we will use the basement as the
overflow room. In that event the sanctuary will have live preaching and the basement will view the
pre-recorded sermon on the TV or will watch the live-stream.
Seating plan:
We will be arranged as in the below diagram.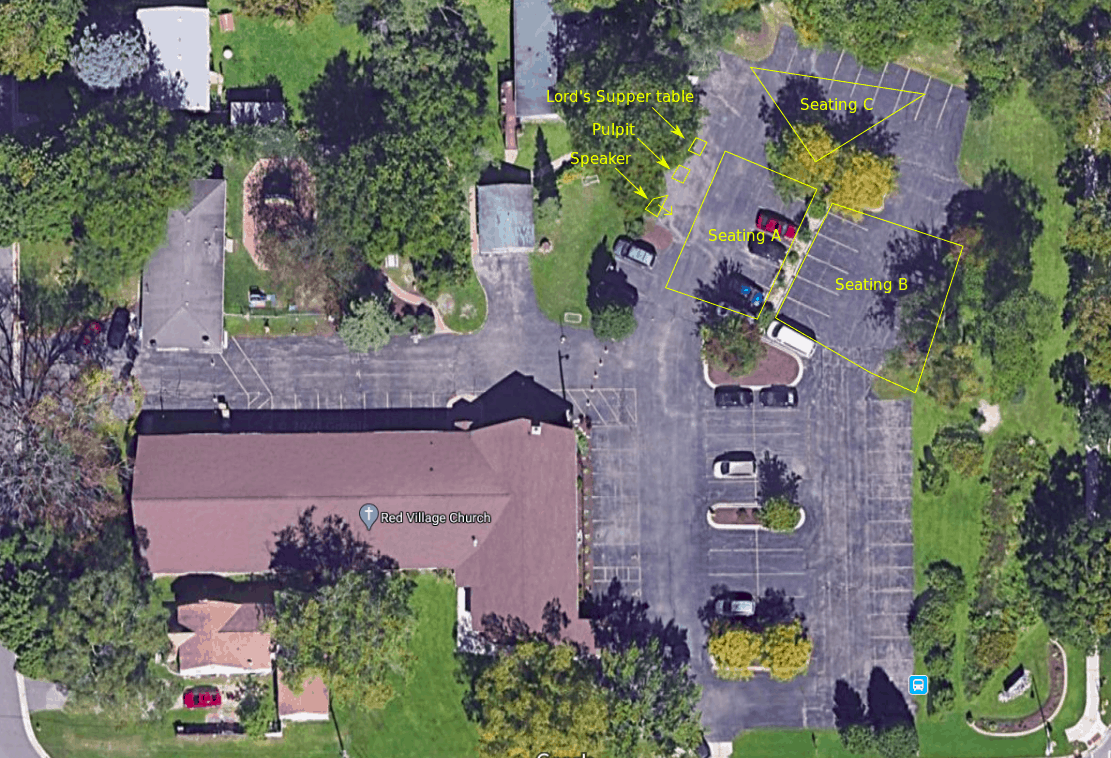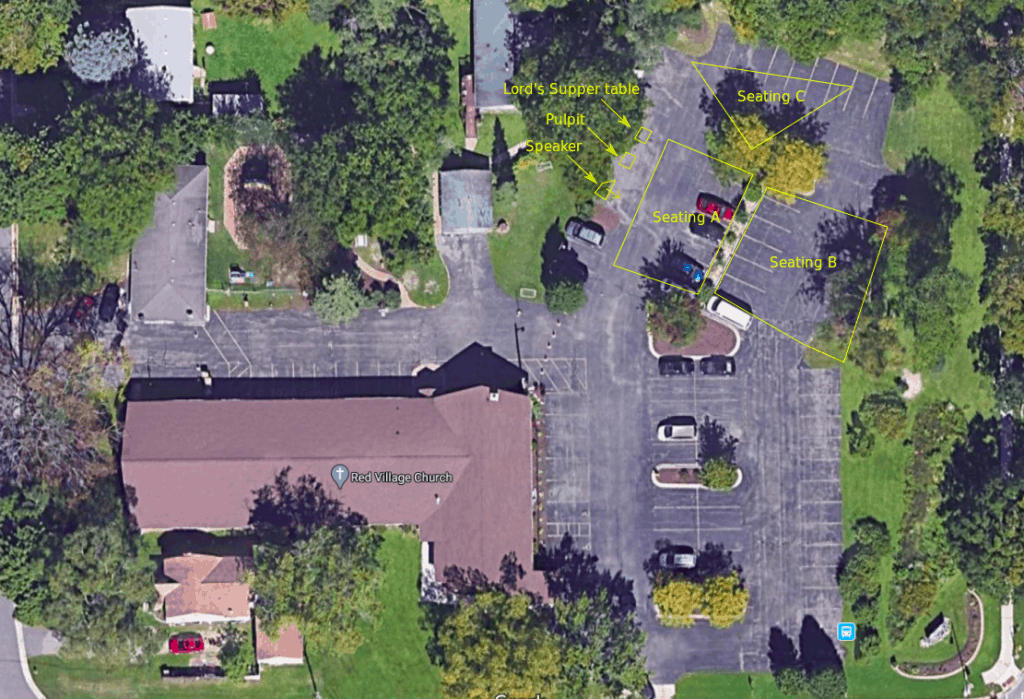 There will be about seventy folding chairs set out in zones A and B. These chairs will start out distancing 6+ feet from each other. Households may choose to rearrange chairs to sit closer together.
The back of zone B and zone C will be open for folks to bring their own chairs or blankets if they desire.
Lord's Supper Procedure:
We will have a single server who will tear off a piece of bread, dip it in the juice, and drop it into your hands. This way those partaking do not need to touch bread that others will be eating. Congregants are also welcome to bring their own fruit of the vine and bread.
Bathroom Cleaning Procedure:
The upstairs bathrooms will be open during the service.
The downstairs bathrooms are closed due to renovations.
On Sunday morning before the service I will wipe down the sink, counters, soap dispensers, and door handles
with antibacterial wipes.
Other Health Procedures and Policies:
Those who are sick are asked to please stay home and do the on-line service.
Masks (not required) and hand sanitizer are available at the door.
HEPA air purifiers are running in the sanctuary.
Seating arrangements will be made to provide physical distance.