Hello RVC!
It is hard to believe that it has been 2 years (on October 1) since we loaded up a U-haul truck and moved from Madison to Manhattan, KS. There is a lot that could be written but I will fill you in on three areas.
Family
Amy and I celebrated our 23rd anniversary this past summer which is pretty amazing. Amy still works harder than anyone I know home schooling the kids and being involved in ministry at church. She started up a greeting time (with bagels and coffee) in between Sunday morning Bible Studies and worship which has been a great time for people to connect with each other before going into the worship service.
Hannah is in her Sophomore year at K-State and doing great. Her major is Communication Sciences and Disorders and she is involved with Christian Challenge, the ministry we were part of when we were at Kansas State. She is co-leading a Life Group in one of the residence halls on campus. Josh is a high school senior and looking at college options right now. He was pretty excited when we said he could play soccer for a home school team in Topeka, which is about an hour away.
Josiah is a sophomore and recently passed up Amy in height! He has had some big firsts this year. He had his first regular job working at a golf course and sports complex. And he went on his first deer hunt and shot his first deer. We are looking forward to getting some of the venison soon and trying it out! Isaiah has one more year before High School and enjoys playing baseball on his team, the Thunder. He also went on his first deer hunt and he was a trooper but unfortunately he didn't get a deer. He, Josiah, and Elijah are also trying out a home school Co-op this year for the first time which is a new experience for them, actually having to leave the house for school once a week! Elijah is 10 and is into soccer and baseball. His soccer team won their championship which was pretty fun. His baseball team had a good season but came up short at the end. Maybe they needed a better coach. (I coached his team this year!)
Ministry Past
This summer we tried out something new as a church that we called Mission Manhattan. We took a weekend to do both some community service and community outreach activities. We organized some games in one of the City Parks, we painted a building at another park and we set up a "comfort station" at the County Fair as a way to make contact with people in the community. It was a great time for quite a few of the College Heights Family to serve together over the weekend and it gave us the opportunity to interact with a lot of people in the community over those few days.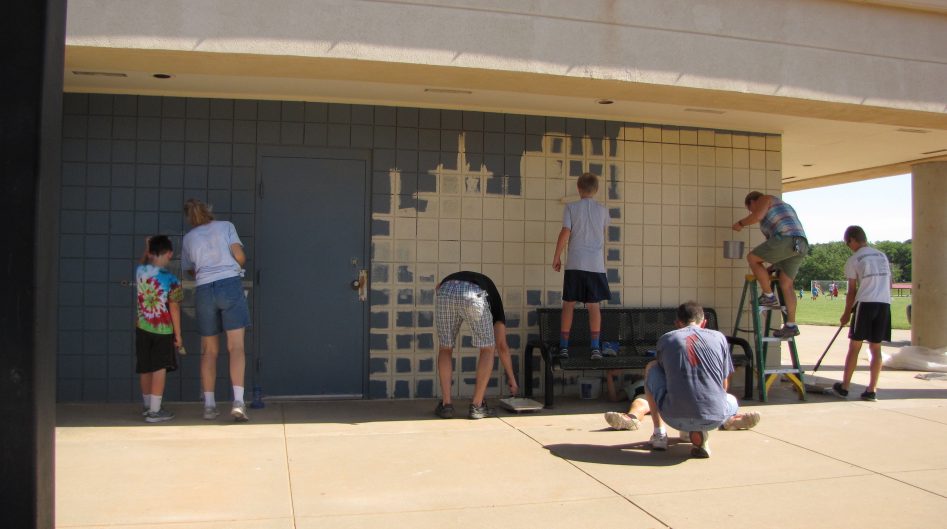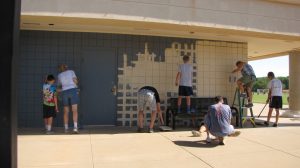 Ministry Future
There is a lot starting and on the horizon for us as a church. Our Conversational English ministry just started up and we have about 30 international students or family members attending English classes at College Heights every Wednesday night. We have students from China, South America, the Middle East
and other areas of the world and we are excited about the opportunities we will have in the next 9 months to share the Good News with these students. We also started a Kid's Bible Club that meets during the Conversational English classes where we will get a chance to teach kids from around the world about Jesus each Wednesday night as well!
In addition, we are hopefully in the process of hiring a new person to lead the music at College Heights and we are getting ready to join in with a city wide prayer focus during the month of October in which churches all over Manhattan will be taking the month of October to focus on praying for revival in our city.
How Can You Pray?
I could go on but I think this blog post is getting a bit long so instead of giving more information I want to ask you to pray. Please pray for the teachers in the Conversational English classes to be bold & loving in sharing the Gospel with their students. And pray that God would bring adults and kids in these classes to know believe the Gospel during this next year!
God bless you all! We are so grateful for all of you and the work God has done and is continuing to do through RVC!