Below is a little introduction to Beau Schmaltz, our newest intern!
Last year at around this time, I stumbled across an article posted on Christianity Today that challenged me to reflect upon the relationships I have. The article sites a study performed by Todd M. Johnson of Gordon-Conwell Theological Seminary. He found that one in five non-Christians in North America do not "personally know" a Christian. If you exclude atheists and agnostics from the study, the ratio leaps to three in five. This challenged me to reevaluate the relationships I was currently building. I specifically drew my attention to serve, befriend, and share the gospel with people from a variety of cultures and religious backgrounds.
One way I will act this out is through my internship with the North American Mission Board (NAMB). As a Church Planting Intern with Red Village Church (RVC), I will be helping with the RVC North church plant, serving international students, and growing as a Christian leader. I will be building relationships with people from northern Madison, as well as around the globe. I will help John and Chrissy Kline establish RVC North in northeast Madison through community involvement and evangelism.
Victoria and I recently started an English Conversation Group for internationals on campus and the Lord has blessed us with five new Chinese friends. Throughout the fall the semester we will continue building relationships by helping them (and others) transition to the United States and see Jesus for who He is.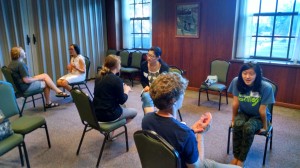 This internship gives me an opportunity to grow as a Christian leader. I'll get a behind-the-scenes look at what it takes to plant a church and establish new ministries. Victoria and I are praying that this time will help us further assess our gifts and future calling as we strive to bring the glory of God and the joy of the gospel to all nations.
Let me know what questions you have or how I can serve you. Please e-mail me at Beau@RedVillageChurch.com.
The Craziest Statistic You Will Read About North American Missions by Abbey Stocker. Published August 19, 2013.
http://www.christianitytoday.com/ct/2013/august-web-only/non-christians-who-dont-know-christians.html
Christianity in its Global Context published by Gordon-Conwell Theological Seminary in June, 2013.
http://www.gordonconwell.edu/resources//Global-Context-of-Christianity.cfm
The duty of Church Planting Interns as stated by NAMB.
http://www.namb.net/Missionary_Development_Farm_System/